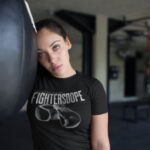 Fightersdope store is a team of athletes and fighters. We created a line of apparel and accessories that can cover all the range of needs that an athlete may have, according to the requirements and standards of dynamic, combat sports such as boxing, kick boxing, Mixed Martial Arts (MMA), Brazilian jiu-jitsu (BJJ), martial arts, grappling muay thai,  gym, outdoor, spartan race, marathon Fightersdope. We hope that you  make the most  of our products and to enjoy them. The line is  suitable for training  classes  as well as everyday use. Change your training days with style! You can find apparel and accessories for dynamic and combat sports in Fightersdope store.

Our designs  are perfect for people who love martial arts, MMA, kickboxing in order to change their training days in style. Grab these apparels as a gift for your training partners or friends  who share the same passion for combat sports fitness,gym,walking,running. The designs are also great for everyday use, outdoor or indoors.
Our catalogue will refresh with new products, regardless of season. We hope that you join our community so as to contribute to the production of creative designs. We aim to expand our brand all over the world and become a big family of fighters.